Interact's pricing model is built on a partnership approach — it's in our interest to get you more applicants and enable you to process them faster. What we bring to the partnership is education industry experts, marketing specialists, advanced technology and a deep understanding of online behaviour.
Interact collects a flat price per applicant or, if you decide, can be offered without charge to your applicants. This cost is normally covered by a portion of the fee collected from each student at the point of application submission, making Interact free for fee-charging institutions. In turn, you set the application fee for your institution, giving you wide scope to generate revenue from your improved Interact application process if you wish.
Revenue Share
Nominal Fee
No Fee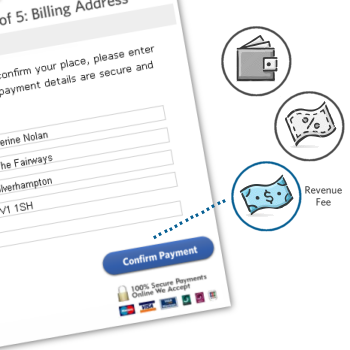 Interact offers the opportunity to generate significant revenue whilst delivering a radically better application service to your candidates at no cost to your institution. When applicants pay a fee you set, normally £20 – £70,
Interact Recruit keeps a flat fee and pays the balance to you
.
Revenue generation via fee in any amount set by you.
Absolutely no cost for your institution.
Student fees self-fund a better applications process, faster offers and better service.
We handle all online payments on our secure servers so there is no technical setup for you to manage. Your Revenue is held in a secured account and disbursed to you monthly, giving you more budget and an increased return on investment for your marketing spend.
Institutions may opt to charge a fee of £10 simply to cover the cost of using Interact. Advantages include:
Nominal application fee; low barrier to entry.
Effective filter, resulting in applicants with higher intent.

Absolutely no adoption cost for institutions

; complete payment of Interact costs covered by applicants.
Application fees have become increasingly standard in Higher Education, and adoption metrics across the HE industry tell us that nominal application fees are not a significant barrier to applicants. Applicants who pass the barrier are more serious about your institution and more likely to accept your offer. It's win-win for the institution, with better qualified candidates and complete coverage of Interact's costs.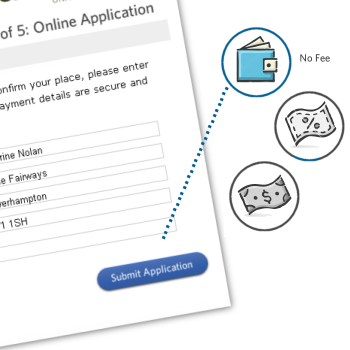 Institutions may also choose to adopt Interact at no cost to applicants, covering the flat fee per application directly.
No barrier to entry for applicants
Low per-application cost

A better applications process, better service to students and an increased conversion rate.
This model is perfect for institutions who are averse to charging application fees but still wish to bring the process management, communications branding, reporting metrics and conversions rate increase Interact offers on board. The per-applicant price pays for the entire Interact system, from customisation to integration, with all the benefits of Interact's continuous experience improvement.